Options abound for men's attire in headshots these days. Business casual has become the norm. And yet, when it comes time for photos, we still see guys opting for a suit and tie. 
That's because the most challenging part of preparing for a headshot is trying to figure out what to wear. Whether you're doing virtual headshots at home, or you're meeting a photographer, you have your entire wardrobe and accessories at your fingertips. 
And while there are no hard and fast rules, there are many things to consider to ensure you look your best. So, gentlemen, this article is for you! We are here to help you sort through the noise and find the perfect look for your business headshot.
**Of course, we acknowledge people of all genders may opt for men's attire for photos. When we say men's attire, we are simply referring to what has been traditionally considered clothing for men. 
Colors & patterns in men's attire for headshots
Colors
Colored shirts are important. Wear the color that brings out your eyes or suits your personality best. While you don't want to be photographed in your favorite sports team gear, it's important to express your personality. Just do it professionally!
You can't go wrong with a dark-colored shirt, like a navy blue, charcoal gray, or sometimes black. These colors are classic and will help lead the viewers' eyes up to your eyes and face (image 1). As far as colors go, black is not ideal but white is awful.
Avoid pastel colors if you have a fair complexion or skin tone. These colors can wash you out, or worse, blend your face into your clothes (image 2). For that reason, avoid any shade that is close to your skin color. If your hair is very light, white, or graying, it is a good idea to wear darker colors that create contrast so you don't look washed out. In general, solids are better than patterns.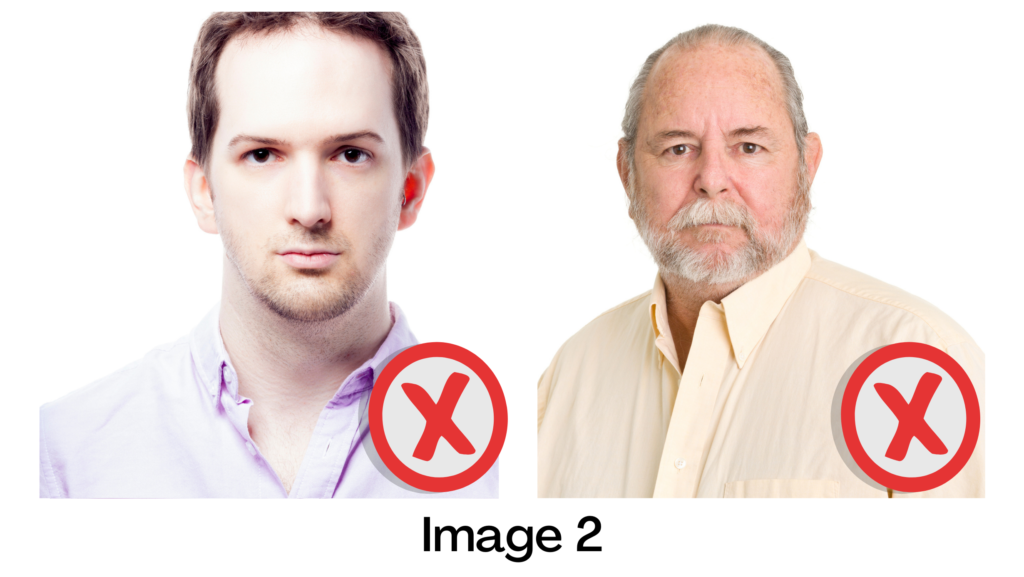 Solid-colored shirts work best if you won't be wearing a jacket.  Think about the background color. With Headshots.com, you can choose your own background, so you can consider this when choosing your outfit. If you are planning to use a lighter background, then a darker shirt is better. If you are shooting on a black or very dark background, you should opt for something lighter, but never white. The goal is always good contrast. 
Patterns
To add some contrast to your look, a solid shirt with a small patterned tie always looks sharp. Just remember to make your statement with colors rather than patterns. For example, a light blue, lavender, or grey shirt works very well with a darker tie (image 3). Even a bold choice like orange can look great as a necktie creating contrast with a blue or grey shirt. Keep in mind that a striped tie looks better with a solid shirt. When choosing your clothing combinations, stay away from large patterns. That goes for both your tie and your shirt. The perfect mix of subtle patterns and complementary colors can seem complicated, but when you get it right, you'll end up with a great photo. 
Clothing styles
The first step to taking a great photo for your professional headshot starts with the choices you make for your clothing. Think about what you would wear to an interview or important client meeting, and that's a great jumping-off point. 
If you aren't planning on wearing a jacket in your photo, wear a collared, button-up shirt. It helps frame your face by drawing attention away from your neck. In general, dress shirts work better than polo shirts. One of the most important styling tips is to wear clothing that fits! Overall, men tend to wear clothing that is too big for them. A collared shirt should always fit snug to the back of the neck, and should never be too baggy. 
It should go without saying that shirts and jackets should be wrinkle-free. That's a great rule for all clothes! While our photo retouchers are very talented, fabrics with textures and patterns are tougher to edit. Wrinkles can't always be removed, and this oversight can seriously affect the appearance of your headshot. 
Some men like to wear t-shirts under their shirts. But for headshots, this is not a good idea unless you really want to add bulk to the overall look of your shot. If you're going to wear an undershirt, make sure it's fitted and not too bulky while also not showing through your outer shirt. White or nude colors are best for this.
If your job is a bit more casual, wearing a suit and tie in your headshot might seem a bit overdone. In that case, choose clothing you feel comfortable in and would be seen wearing at your job. The key is to choose something clean, well-fitting, and with good color contrast.
Accessories in
men's attire for headshots
Men's attire for headshots can also include accessories. Accessories are fun, but should not overwhelm your face. The point of a headshot is to accentuate the most engaging features of your face, so distracting from that with a giant pair of glasses or a crazy tie is not a smart choice.
If you usually wear glasses, go ahead and keep them on for your photo. You want to look recognizable as who you are day-to-day. Just make sure your lenses and frames are clean and smudge-free. 
When it comes to your overall look, simple is always best. Accessories may provide a polished and complete look in person, but these little details can go unnoticed in photos or worse, be distracting. Choose your accessories wisely, and keep them simple (image 4). 
Since you are shooting these photos at home, you will have time to switch outfits or accessories if you choose to. Try taking some photos with a tie, then without, and doing the same for your accessories. You'll be able to see which ones feel the most authentic, and that's the one you will submit for professional retouching. 
Grooming
Since headshots are close-up photos of your face and head, you want to look well-groomed and put together. If you're planning to get your hair cut, do it a week before you take your photos. This will give your hair time to grow in a bit and look casually well-groomed. 
Beards look great in headshots, but even big bushy beards should be impeccably groomed. A little scruff is popular in photos these days, but keep stubble to just a day or two of growth. Any more than that can start to look sloppy (image 5). Whatever you feel most comfortable with will be the best look for you. 
As a guy, you should consider if you need to trim your ears, nose, or eyebrows. Just be sure to trim carefully and ask a friend or family member for their honest opinion if you aren't sure how much needs to go. 
Moisturizing regularly for a few days leading up to taking your photos is a good idea. Well-hydrated skin has a warm, healthy glow. It may also soften the hard edges of your smile lines. Opt for a moisturizer that doesn't have an SPF factor. The chemicals and minerals that do a great job shielding your skin from UV rays can give your face an unnatural shine.
What to avoid in men's attire for headshots
While it can be tough to find the perfect look, there are clearer instructions for what to avoid. Avoid too loose or baggy clothing, wrinkled shirts or coats, crazy busy patterns, and anything too small for you. Shirt collars need to be stiff or have collar stays in to stay up in place.
Stay away from bold, plaid prints and brightly colored shirts such as red, yellow, or green. Never wear a white button-down shirt without a tie or suit jacket, as it will draw attention to the brightness of the shirt and away from your face. Short sleeves are not a great idea, as the exposed skin can be distracting.  
Start your home headshot session
Give yourself the time you need to succeed. Unless you're a seasoned photography professional, don't expect to take a perfect photo immediately. Try out different combinations of men's attire for headshots. Take photos in different poses and settings to see what feels most natural.
Ready to put your best face forward? Sign up for your Headshots.com virtual headshot today!